Being a dog mum, I adore this set of Dog Coloring Pages Printable Letters And Numbers. You see caring for a dog takes so much time, lots of love and having to think about your dog when planning days out and holidays.
However, the rewards of owning a dog far outweigh the time and work involved. These Dog Alphabet colouring pages reflect all the fun sides of being a pet owner and the playful sides of dogs. I hope they bring a little joy and inspire some dog-themed learning for little dog lovers everywhere.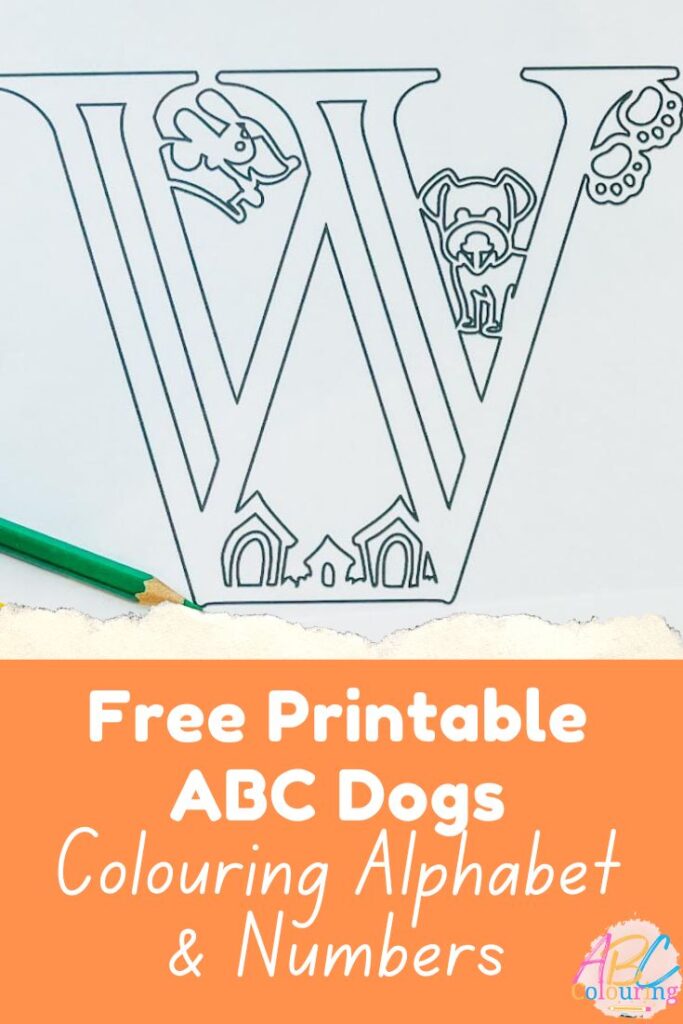 Ideas For Using These Dog Colouring Pages Printable Letters And Numbers
IT, printing out or uploading to Word, Canva or Pages for online word forming or colouring,
Dog Themed Art, colouring in the alphabet,
Animal Classroom decor,
Spelling, creating spelling games and forming words ,
Art, make Dog birthday cards.
10 Great Dog Facts For Kids
Also check out these great quick dog facts for kids, they are perfect to work alongside our alphabet to promote a little canine learning.
The tallest dog in the world is the Great Dane.
All dogs are direct descendants from wolves.
Dogs are not completely colour blind – they can vividly see blue and yellow.
A dogs nose print is unique just like fingerprints.
Dogs have three eyelids.
All dogs dream. Puppies and elderly dogs tend to dream the most.
Dogs sweat through their paws, they can also cool down and regulate their body temperature through panting.
Dogs are able to smell emotions.
A two year old is as smart as a dog.
Puppies are born deaf and blind.
How To Get Your ABC Dog Coloring Pages Printable Alphabet And Numbers?
Click here or the image below to get your free Dog Colouring/Coloring printable downloads and either send to the printer or upload to the pc and use on a colouring or processing programme. However, make sure your pop-up blocker is turned off.
More Home Learning Inspiration
If your children love colouring/coloring and you are looking for a rainy day project this themed Hello Kitty alphabet is perfect. Also check out this Happy Birthday and Mickey Mouse.
Also if you are struggling for art inspiration check out my fun Things To Do With Paper post. There are so many great craft ideas.
If You're Having Problems?
Check out my trouble shooting page, hopefully it will answer any questions you may have.
Also please do pop over to Instagram or TikTok and give me a follow and if you make a project please do tag me! I love seeing everyone else's makes and chatting crafting. I could do that all day! This is also where I share all my projects in progress.