Today we are sharing an alphabet that is for some of the unsung hero's amongst us. To all those teachers out there, our ABC Teacher Colouring Pages, Letters And Numbers are designed for you, to say thank you, hopefully it will be used thousands of times the world over.
Teachers are incredible aren't they. I always remember back in my teaching days the pride I felt when my students mastered something they thought they couldn't achieve. So its always great at the end of a year to get cards from all the people you have spent the year supporting and encouraging.
You never forget your favourite teacher do you? A great teacher has the ability to inspire and give you confidence, they can make or break a subject for you.
Ideas For Using These Teacher Colouring Pages Printable Themed ABC Alphabet And Numbers
IT, printing out or uploading to Word, Canva or Pages for online word forming or colouring
Dexterity, cutting all the letters out into squares
Spelling, creating spelling games and forming words
Maths, using the numbers to create sums and problems (You may need to print out 2 sets of numbers.)
Art, make Teacher Colouring cards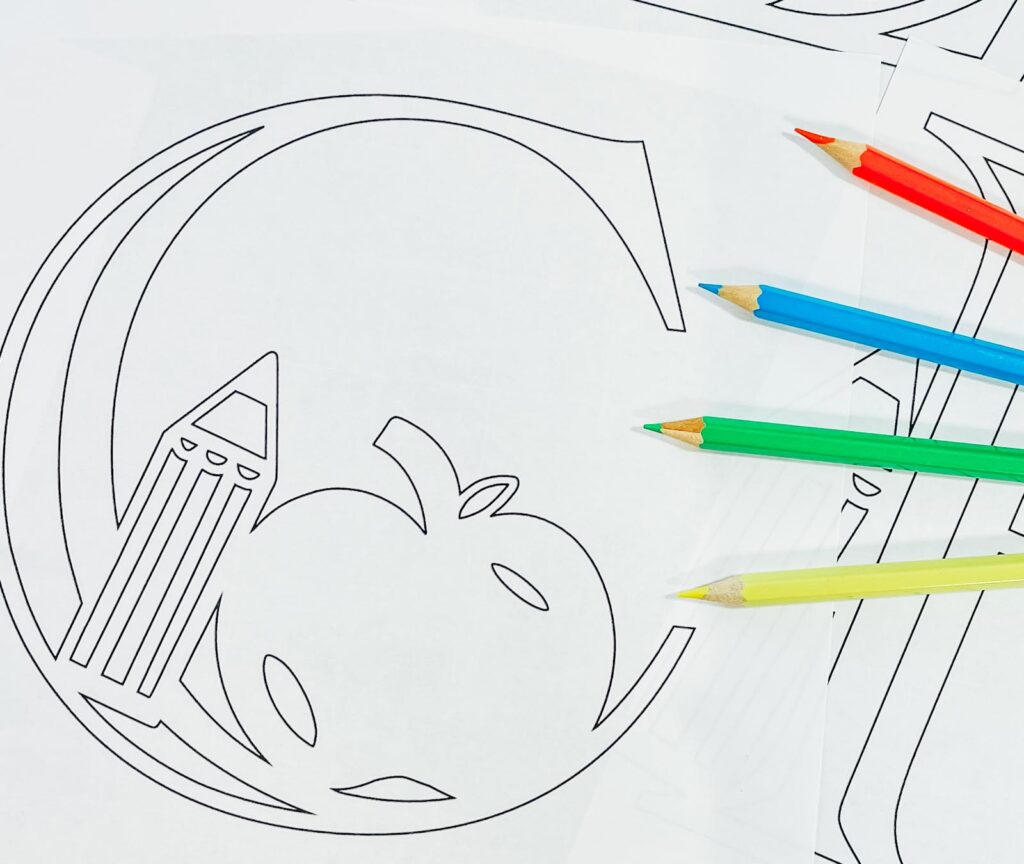 Facts About And Inspirational Teachers We Should Know.
Teachers are associated with apples because families living in American frontier were expected to house and provide for teachers if they wanted their children to attend school. However because apples were an abundant crop, students would bring teachers apples as a mark of affection and appreciation.
There are roughly, currently 530,00 teachers in the UK.
However there are around 3,217 500 in the USA
The world's largest school is City Montessori School in India with over 56,000 students and 4,500 staff across 19 campuses in the city of Lucknow.
The School Of Air in Australian broadcasts all of its lessons to reach children who live so far out they cant access school otherwise.
Inspirational teacher Anne Sullivan was just 20 years old when she was employed as as a governess for Helen Keller. She took on the task of educating Keller using sign language to connect with the world around her. Keller learned roughly 600 words in only a few months.
Hanan al-Hroub is a Palestinian teacher who won the 2016 Global Teacher Prize. She focused her career as a teacher working with children who have been traumatised by violence.
Gabriela Mistral was not only a teacher but a Nobel Prize-winning poet who fought for Chilean citizens rights of all social classes to access education.
How To Get Your Teacher ABC Colouring Pages Alphabet And Number Set Of Printable's?
Click here or on the image below to get your free Teacher Colouring/Coloring downloads and either send to the printer or upload to the pc and use on a colouring or processing programme. The link to the page is in your members email. However, make sure your pop-up blocker is turned off.
More Home Learning Inspiration
If your children love colouring/coloring and you are looking for a rainy day project this themed Tool Kit alphabet is perfect. Also check out this Wedding Alphabet and Flamingo ABC Printable Set.
Also if you are struggling for art inspiration check out my fun Things To Do With Paper post. There are so many great craft ideas.
If You're Having Problems?
Check out my trouble shooting page, hopefully it will answer any questions you may have.
Also please do pop over to Instagram, or TikTok and give me a follow and if you make a project please do tag me! I love seeing everyone else's makes and chatting crafting. I could do that all day! This is also where I share all my projects in progress.