Eid is an important time of year for Muslims all around the world, a time to reflect, celebrate and be thankful for what's around us. So when a good friend asked me if I would create an Eid Alphabet, one that she could print off for her children I couldn't wait to get started.
Armed with tips of what makes a great Eid Craft project, I got started. I wanted to create a feeling of atmosphere with the alphabet and I really hope I have achieved that and done it justice. If you have a Cricut also check out my Eid Star SVG and my SVG Eid Alphabet will be live very soon.
This is also a perfect alphabet for teachers and cub and scout groups to print and and start the conversation to draw children from all faith communities into to conversation and celebrations.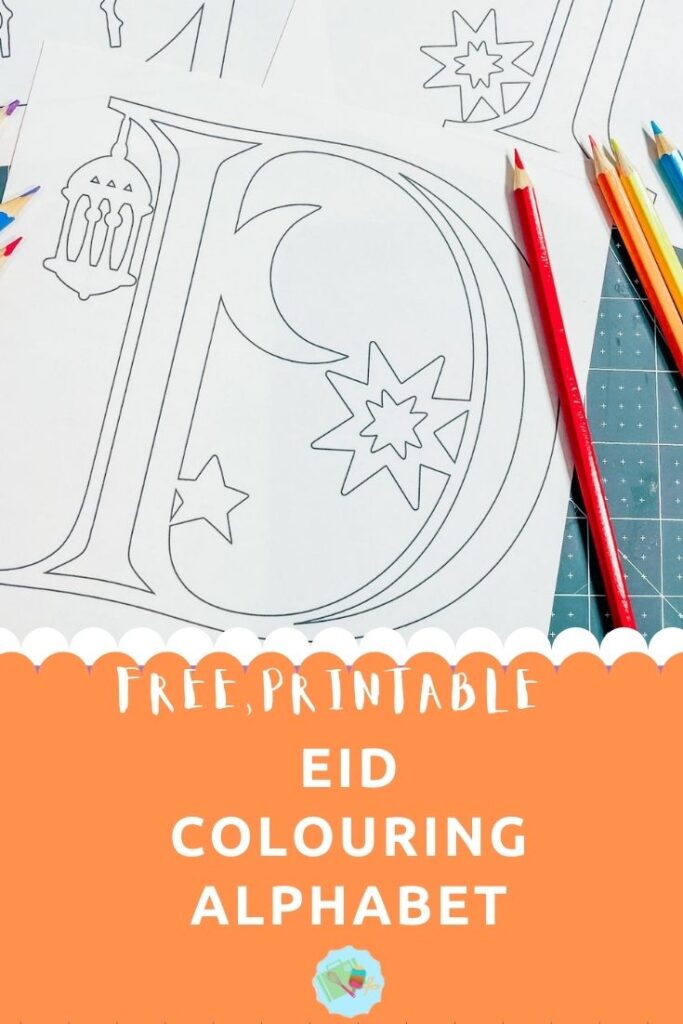 Ideas For Using These Free Eid Colouring Pages Printable Themed ABC Alphabet And Numbers
IT, printing out or uploading to Word, Canva or Pages for online word forming or colouring
Dexterity, cutting all the letters out into squares
Eid Themed Art, colouring in the alphabet
Maths, using the numbers to create sums and problems (You may need to print out 2 sets of numbers.)
Art, creating collages
Spelling, creating spelling games and forming words
Art, make Eid cards
Print out 2 sets and make a game of Eid alphabet snap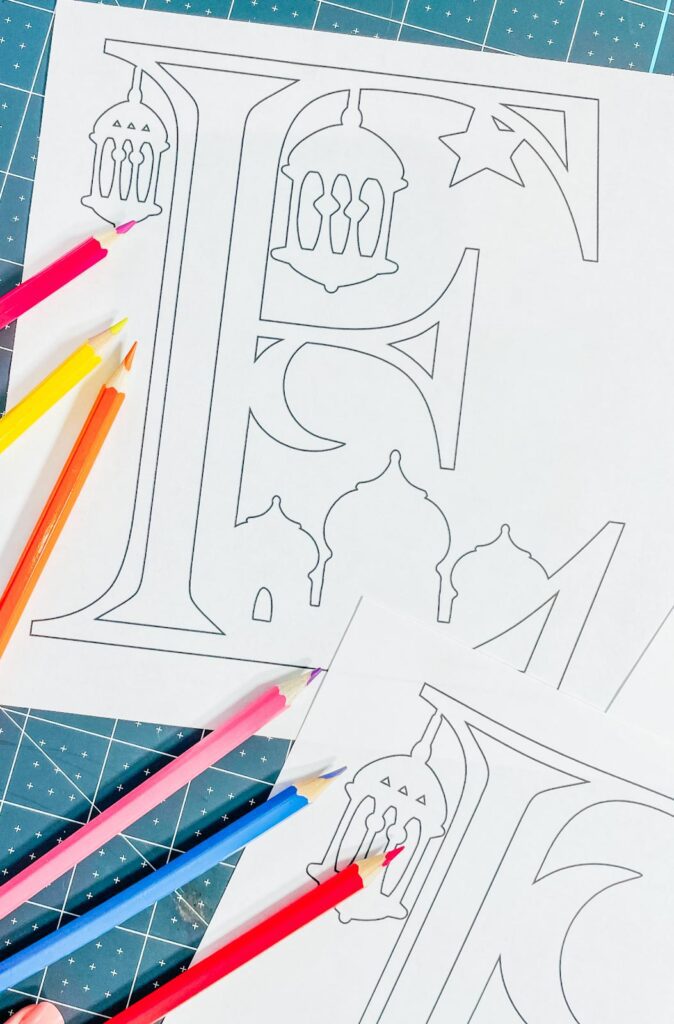 10 Fact About Eid For Kids
A huge thank you to my wonderful friend Naseema from Saabun Soap for providing me with the top Eid facts for children. Also do check her out, her Indian inspired soap, it is just gorgeous.
Muslims celebrate Eid al-Fitr at the end of the Islamic month of Ramadan. The name Eid al-Fitr comes from the Arabic ??d al-fi?r, which means "festival of the breaking of the fast."
During Ramadan the fast is broken twice a day, with a meal eaten before dawn known as Suhoor and another meal is eaten after sunset called Iftar. As the time of dawn and sunset changes each day so does the time the fast can be broken.
Ramadan and Eid- al Fitr are held in different Gregorian dates every year. Muslims have an Islamic calendar which is based on lunar cycles. A new month starts and ends with each new moon. Thus, every year, the month of Ramadan falls around 10 days earlier than it was the previous year in relation to the Gregorian calendar.
Muslims celebrate two Eid's in the year. One is celebrated after the Islamic month of Ramadan the other is celebrated in the Islamic month of Dhul Hijjah following the pilgrimage.
Not everyone celebrates Eid on the same day due to sighting of the moon and geographical location. Muslims look towards the closest Muslim country for guidance on the sighting of the moon.
We start the day by wearing our best (new) clothes, praying together and giving charity. Women traditionally apply henna to their hands and men wear traditional thobes.
We then get together with our families and friends, exchanging gifts and tucking in to some traditional eats and treats!
Traditionally the foods we eat on Eid is biryani, and seviyan (vermicelli pudding). Recently, this has changed to a whole host of dishes being added to the table. We enjoy eating and feeding others!
Some houses like to decorate for Ramadan and Eid. This is to remember that it is a time of celebration and happiness.
During the Eid celebration, Muslims greet each other by saying 'Eid Mubarak', which is Arabic for "Blessed Eid".
How To Get Your Free Eid ABC Colouring Pages Alphabet And Number Set Of Printable's?
Click here or the image below to get your free Eid Colouring/Coloring downloads and either send to the printer or upload to the pc and use on a colouring or processing programme.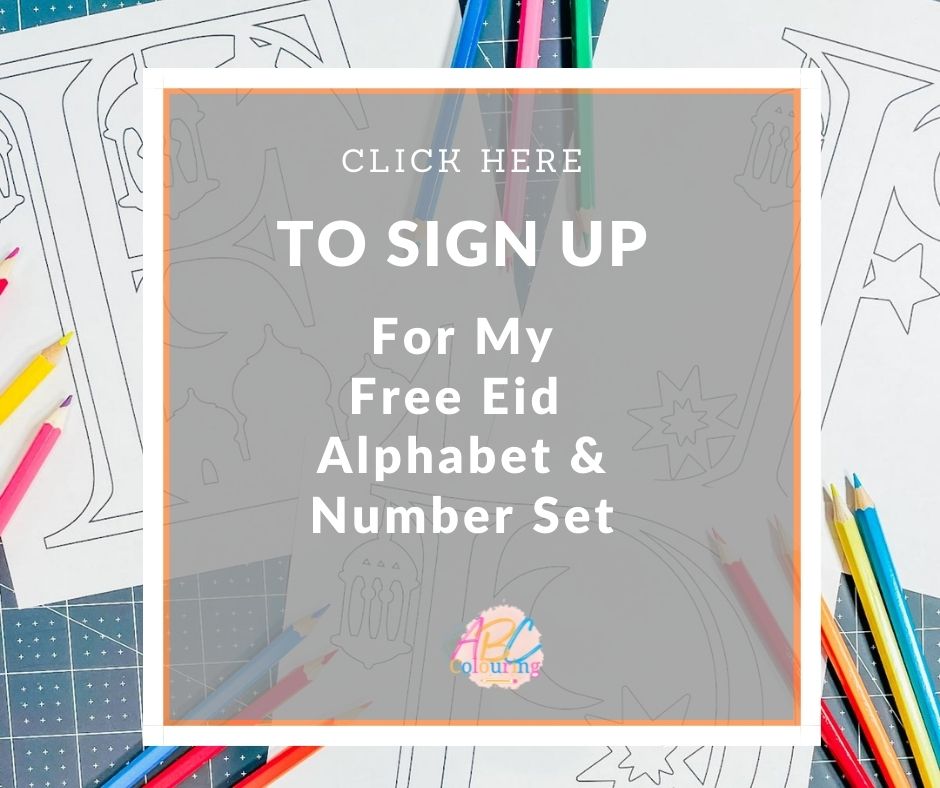 More Home Learning Inspiration
If your children love colouring/coloring and you are looking for a rainy day project this themed Ballet Alphabet is perfect. Also check out this Dinosaur Alphabet and Princess Alphabet.
Also if you are struggling for art inspiration check out my fun Things To Do With Paper post. There are so many great craft ideas.
If You're Having Problems?
Check out my trouble shooting page, hopefully it will answer any questions you may have.
Also please do pop over to Instagram, or Tik Tok give me a follow and if you make a project please do tag me! I love seeing everyone else's makes and chatting crafting. I could do that all day! This is also where I share all my projects in progress.